There are so many reasons to love Greenville.
The culture
The food
The Scenery
The People
Even though "no one is from Greenville", people you run into whether indigenous Southerners or transplants, exude Southern Hospitality.
Reading about the topic is very interesting. Whether the concept is rooted in deep religious tradition or guilt over slavery, its still wonderful to behold. I remember our first house hunting trip here.
We got lost leaving the unusual bed and breakfast we stayed in.
We stopped at a gas station to validate the stupidity of the woman living inside our GPS unit. In 2 minutes, 3 groups of people were nearly fighting over being the one to help us find our way. Truly incredulous.
Some of the local linguistics reinforce this hospitality. When accepting an apology its not "no problem" (double negative) but "you're fine!" Thats the way we feel living in the Upstate!
Within the framework of Southen Hospitality and the language of the south are some other interesting phrases with double entendre such as one of the classics, "bless her heart."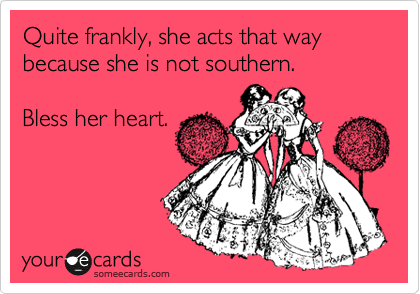 While on the surface a simple blessing, it can have very different meanings (so I am told). Learning which meaning is intended is something I only now begin to figure out.
All of these new phrases and meanings noth withstanding, the people (lifelong residents and transplants alike) are genuine caring folk. I am continuous lyreminded of the stark paradox between demeanor here and in the northeast where I grew up.
My travels, multiple times each month back to the northeast, subject me to that self-centered approach which I have loved to forget.
Viva la difference!